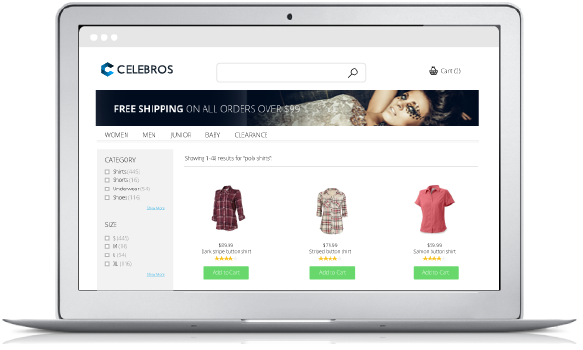 Dynamic Merchandising Engine
Boost Sales with Powerful Merchandising Tools. Create Landing Pages for Any Campaign, Anytime!
"Advertising moves people toward goods; Merchandising moves goods toward people."
-Morris Hite
You know how profitable it is when high-margin products are promoted over less profitable ones, something that's not
always easy to implement. In just minutes, the powerful Dynamic Merchandising Engine allows you to create banner,
category promotion, alternative products and redirect campaigns. For example, you can create a banner promoting free
shipping for the 50 most popular search queries on your site.

Virtual Categories
Every campaign should have a landing page to control the experience and sales funnel. The Virtual Categories enable e-Commerce Managers and Merchandisers to effortlessly create powerful and effective dynamic landing pages without the need to add or change a single line of code. SEO, SEM, Affiliate, Email, Holidays, Clearance Sales, Weekend sales campaigns or just any new campaign – you can create a landing page and push it live all in less than 5 minutes!
virtual category banner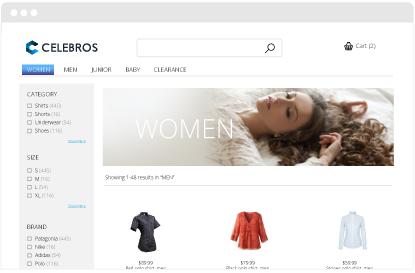 Merchandising Banners
Display highly effective banner campaigns across your site search and navigation results pages that target your visitors personal search and navigation behaviors and analytics. Campaigns can be easily set up to display Image, html or html5 banners to provide the perfect shopping experience and deliver a powerful message site-wide.
merchandising banners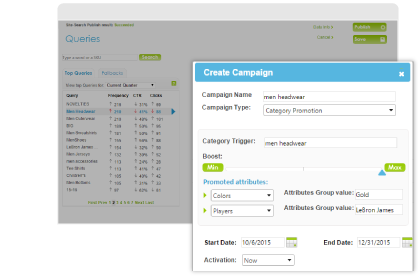 Category Promotions
Category Promotion Campaigns allow you to display reorganized site search and navigation results pages based on past users search history and analytics. E-Commerce managers and merchandisers can simply promote products with specific sets of attributes such as colors, sizes, brands, price ranges or even based on shipping methods and more to any spot on the results page.
Celebros Campaign editor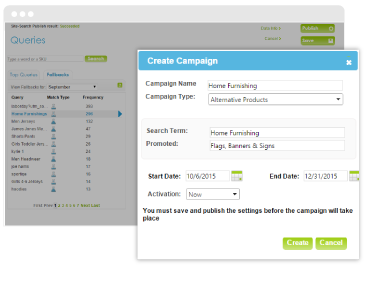 Alternative Products and Redirects
Sometimes products can run out of stock or customers may be searching for a product that you simply don't sell. The last thing you want is your potential customers seeing a "no results" page displayed on your site. The Alternative Products and Redirect Campaigns allow you to seamlessly display products that closely resemble the products that are being searched, or redirect users to a specific landing page or category for a streamlined experience.
Celebros Campaign editor
Manual Product Ranking
Marketers rely on collected user data to take merchandising actions. Manual ranking enables e-Commerce managers and merchandisers to manually rank and set the position of products by attribute weighting or by a simple "Drag and Drop" to easily place the product into the position you want.
Manual product ranking