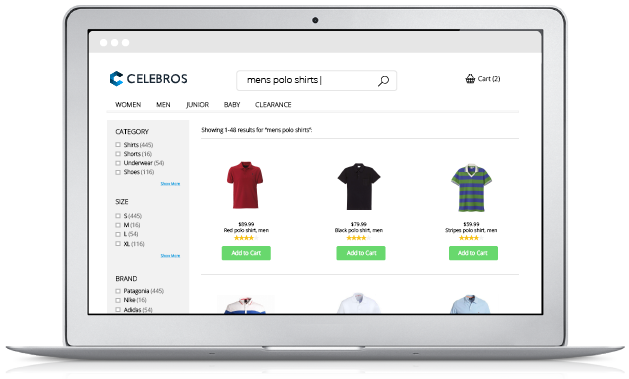 Natural Language Site Search
+ Intelligent Learning
You pay to drive traffic to your site. Your potential customers are searching for products on your site. If they can't find those products with ease, off to your competitors they go.
E-Commerce Site Search with the "smarts"
With 250 Natural Language and Semantic algorithm components, Celebros' search understands which word in the query is a product, an attribute or an expression that is related to a price or product.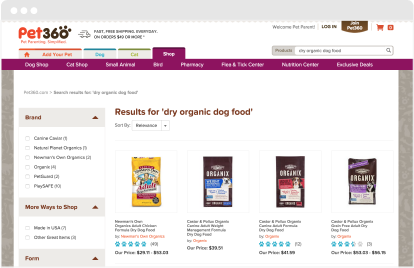 Long Tail Search
Visitors searching for products tend to be very specific about what they want. With the use of natural language and intent algorithms, Celebros ensures that the customers receive the best results every time no matter the length or complexity of the query by.
Searched for "dry organic dog food"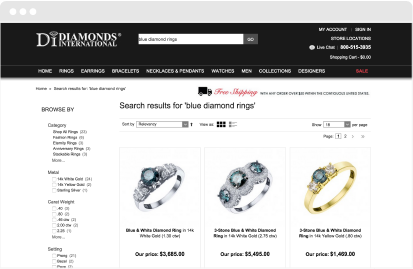 True Color Search
Searching for Blue Diamond Rings shouldn't be complicated. For some reason this rather simple task has become overly convoluted online. Celebros bridges the customer's natural language with the websites text by contextually being aware of the customer's semantic intent and returning the correct results – every time.
Searched for "blue diamond rings"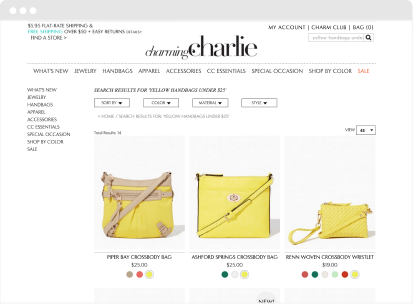 Function Search
Semantic Search handles functions such as "with", "without" & "under". Visitors on a budget looking for a product under a certain price, can now easily find the items they want. Celebros' concept based site search removes the guessing games by returning accurate results even when the query is complex.
Searched for "yellow handbags under $25"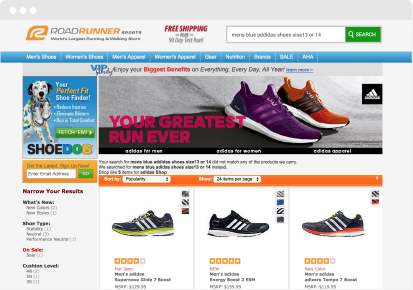 Advanced Spellcheck and Boolean
We all make spelling mistakes. What can you do? We're human. Celebros' natural language site search understands, corrects and delivers accurate results for the most convoluted spelling mistakes and grammatical errors without the need of manual optimization and correction even with multiple size options.
Searched for "mens blue addidas shoes sise13 or 14"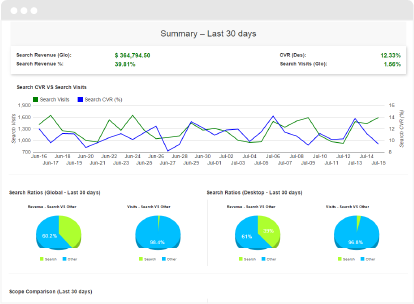 Site Search Conversion Analytics
Site Search conversion analytics provides e-commerce managers and merchants a full, broad and in-depth view of the search segment revenue streams by both desktop and mobile devices and across all search terms and website products.
Celebros Dashboard: Analytics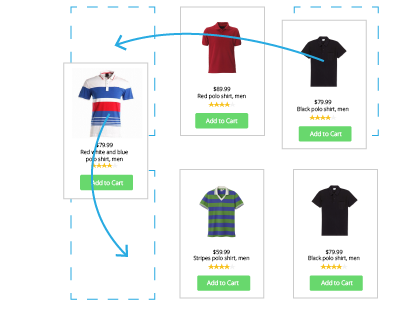 Advanced Machine Learning (AML)
Not only does the Celebros Natural Language Site Search serve customers the most relevant results, but these results are entirely focused on conversion rates and the user experience. Celebros will rearrange the position of products and their refinements based on collected user data processed through the Advanced Machine Learning technologies. Celebros' AML will also proactively optimize the search with the addition of synonyms used in past search sessions to provide the merchant with richer data that converts
Leading Merchants Need Super Features.
Make Sure Your Customers Have the Tools to Convert
Available in seven languages
Full conversions analytics suite
Foreign language characters recognized
Advanced auto-complete
Advanced spellcheck
Multi select faceted navigation
Automatic singular/plural recognition
Dynamic merchandising suite
Synonym and langauge dictionary
Connected search and navigation
Handles boolean functions like "size 9 or 10"
Field boosting
Handles functions like "with", "without", "under". etc.
Product promition
True color search
Per search term performance monitoring
Fully responsive for mobile or tablets
Fuzzy search
Content and cms search (nonproduct)
"Did you mean"?
Social search
Scoped searches
Intelligent machine learning
Redirections
Easy and fast integration
Truncation and stemming permitted
Mangeto's premier site search extension
Compound terms
hybris gold certified extension
Fast and on-demand indexing
Fast result delivered in 0.05 seconds or less
Dedicated account manager
Seven responsive and customizable ajax-based UI's
24/7 support by actual staff
Use our or your UI's
Full training
Full API availble